Technology
How it works
Description
Advantages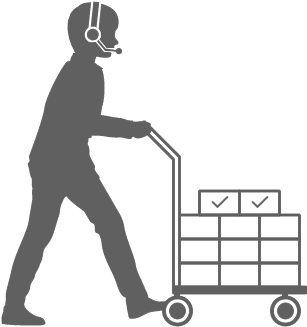 The hands-free and eyes-free concept guarantees warehouse workers maximum freedom of movement and maximum concentration on important work tasks. The implementation of voice technologies allows increasing the productivity of the employees, performing a huge number of similar operations, reducing the number of errors, expanding the ability to evaluate the work of employees, and reducing costs through the use of less qualified personnel.
Voice technologies allow you to manage all warehouse operations in real time - from receiving goods from suppliers to shipping to customers. In particular, the technology makes it possible to picking of both piece and weight goods; assembly of large orders simultaneously by several order pickers; weight control of completed pallets; provides automatic issuance of tasks and pallet labels to pickers and many other operations.

Return on investment takes only 12-18 months

Increase in labor productivity from 10% to 30%

Customer Service Improvement 99,9% picking accuracy
| PARAMETER | PAPER | RF-TERMINALS | VOICE SOLUTION |
| --- | --- | --- | --- |
| OPERATION SPEED | High | Low | Max |
| QUALITY OF OPERATIONS | Low | High | High |
| ADDITIONAL PAPER COSTS | Yes | n/a | n/a |
| ON-LINE DATA | No | Yes | Yes |
| TRAINING | 8 hours | 1 week | 3 hours |
| TARGET SPEED | 3 weeks | 1 month | 1 week |
| HANDS | Busy | Busy | Free |
| EYES | Busy | Busy | Free |
| ERGONOMICS | Complex | Complex | Easy |
| HW SAFETY | n/a | Normal | High |
| STRICT SEQUENCE | Yes | Yes | No |
| LANGUAGE CHOICE | No | No | Yes |
Solutions
Applying
Features
Architecture
Ready-made solutions for voice control of key processes in logistics and retail

Voice picking

Voice control

Voice check-list
Features of specialized voice hardware and its advantages
Can work autonomously and independently of the server (off-line mode).
Can be used throughout the entire work shift, without recharging. Hot swap mode for quick battery change.
Ergonomic. It is convenient for a large volume of manual order picking and in warehouses with a wide range of goods.
It is used at any facilities, including warehouses with special temperature conditions, when orders are collected with gloves on.
Safe and comfortable when handling heavy loads and bulky goods when there is a need to pick orders with both hands.
Industrial noise reduction. It is used in warehouses with quiet and noisy environments, with varying noise levels.
Benefits of the system through the use of innovative speech technologies
Synthesized speech is as close to natural sound as possible.
Speech recognition is performed regardless of gender, age, dialect and accent, and without prior training.
The system is controlled by built-in voice commands, with the exception of activation and deactivation. Abbreviations, numbers, abbreviations and special characters are accurately deciphered.
After pronouncing the command, the system reacts instantly and data is exchanged quickly.
Voice control standardizes the process of entering data into the system.
Working with the voice system is intuitive for users, and at the same time modern in terms of technology, including the use of artificial intelligence.

Projects
SLS

Distribution of goods

Lesstor

Food distribution

Vivat

Retail
Contact us!
Voice project cost calculation for your Company
info.global@ivoicesys.com